DALLAS - 1978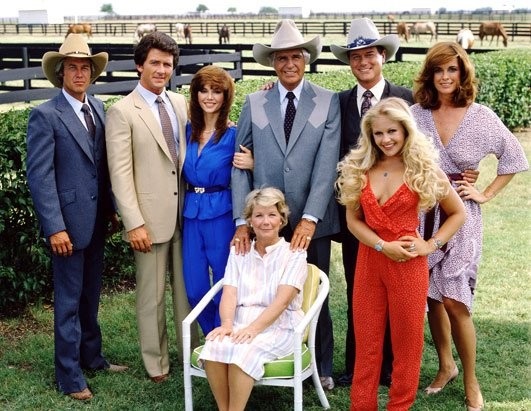 Dallas is an American prime time television soap opera that revolves around the Ewings, a wealthy Texas family in the oil and cattle-ranching industries. The series won four Emmy Awards, including a 1980 Outstanding Lead Actress in a Drama Series win for Barbara Bel Geddes.
Throughout the series, Larry Hagman stars as greedy, scheming oil baron J. R. Ewing. The show also starred stage/screen actress Barbara Bel Geddes as family matriarch Miss Ellie, and movie Western actor Jim Davis in his last role as Ewing patriarch Jock Ewing before his death in 1981.
The show debuted on April 2, 1978, as a five-part miniseries on the CBS network. Producers initially had no plans for expansion; however, due to the show's popularity, it was subsequently turned into a regular series and broadcast for 13 more seasons from September 23, 1978, to May 3, 1991. The first five episodes (originally viewed as a miniseries) are now considered to be the "first" season—so in all the series had fourteen seasons. Dallas was included in Time magazine's 2007 list of "100 Best TV Shows of All-TIME". By the time the show concluded in 1991 it had become one of the longest lasting primetime dramas in American TV history...second only to Gunsmoke and Law & Order, which both tie as the longest lasting American TV dramas with 20 seasons for each show. Dallas' spinoff Knots Landing also lasted the same number of seasons—14 (currently the all-time TV series record is held by the BBC's Doctor Who). The show was also famous for its cliffhangers, including the "Who shot J.R.?" mystery, and the "Dream Season", in which the entirety of season eight was revealed to have been a dream of one of the characters.
The show's central character is John Ross "J.R." Ewing Jr., a greedy, scheming oil baron played by Larry Hagman (a Fort Worth native). J.R. was only intended to be a supporting character when the show premiered, as the series was originally built around J.R.'s brother Bobby and his new bride, Pam. However, J.R.'s machinations became popular with viewers and he quickly became the focus of the series.
Creator David Jacobs originated the idea for a drama series about four married couples (which would later become the spin-off series Knots Landing), but CBS wanted a glitzy "saga-like" show. Jacobs therefore created Dallas, a series about a wealthy family in the oil business. When Dallas proved to be a hit, CBS reconsidered Jacobs' original idea and turned Knots Landing into a spin-off of Dallas in late 1979.
The miniseries that started in April 1978 was shot entirely on location in Dallas, Texas, and at the Cloyce Box Ranch in Frisco, Texas. Later, most interiors for the show were shot at the MGM studios in Hollywood, with some exteriors being shot at the Southfork Ranch in Parker, Texas, and other sections of Dallas, until 1989, when rising production costs led to all filming being relocated to California. Typically the cast and crew would spend six to eight weeks filming on-location sequences in the Dallas area during the summer prior to the season, then film the remainder of the season in the Los Angeles area; less than half of the episodes in a given season had on-location sequences filmed in Dallas. MGM built a full-size replica of the Southfork Ranch backyard and pool on one of its soundstages, allowing for filming of "location" shots during the latter part of the season.
The show is known for its wealth, sex, intrigue, and power struggles. When the series began, the founder of Ewing Oil Company and patriarch of the Ewing family was John Ross "Jock" Ewing, Sr. (Jim Davis), a ruthless oil tycoon who had allegedly cheated his one-time partner, Willard "Digger" Barnes (David Wayne, later replaced by Keenan Wynn) out of his share of the company as well as Digger's only love, Eleanor "Ellie" Southworth (Barbara Bel Geddes). Later, the offspring of Jock's brother would claim that their father was integral to the oil boom that created the Ewing dynasty, and sued the estate.
Jock and Miss Ellie raised three sons, J.R. (Larry Hagman), Gary (David Ackroyd and later Ted Shackelford) and Bobby (Patrick Duffy). J.R., the eldest Ewing son, unscrupulous and unhappily married to a former Miss Texas, Sue Ellen Shepard Ewing (Linda Gray), was frequently at odds with his youngest brother, Bobby, who had the morals and integrity that their daddy's namesake lacked. Middle son Gary was Ellie's favourite as he displayed Southworth (her side of the family) traits. Gary was in disfavour with both Jock and JR, and dismissed as a weak link, though Gary maintained a warm relationship with the other Ewings. Gary married a former waitress Valene "Val" Clements Ewing (later Gibson Waleska Ewing) (Joan Van Ark), who produced the first heir, the petite and saucy Lucy (Charlene Tilton), who displayed a spoiled, boy-hungry personna while residing at Southfork Ranch. Lucy had been sleeping with the ranch foreman, Ray Krebbs (Steve Kanaly). Ray would later be revealed as a half-sibling, an illegitimate son through an extramarital affair Jock had during World War II. Kanaly was unhappy with his small, one dimensional role and considered leaving the show. To add depth to Kanaly's character, Hagman suggested that the writers create a plot wherein Ray becomes half-brother to J.R., Gary, and Bobby, noting his resemblance to Davis. The episode where Ray and half-niece Lucy had a fling is, as Kanaly told Dinah Shore in an appearance on her show, "prayerfully forgotten, I hope."
Ray had previously engaged in a short fling with Pamela Barnes (Victoria Principal), who was (later revealed to be) Digger Barnes' (David Wayne) stepdaughter and Cliff's (Ken Kercheval) half-sister. However, Pam loved Bobby Ewing and the two married. J.R., who loathed the Barnes family, was not happy with Pam living at Southfork and constantly tried to undermine her marriage to Bobby. The feeling of acrimony was mutual from Cliff and he too tried to undermine their marriage, but in time he grew to accept it and Bobby as his brother in law.
Most of the seasons ended with ratings-grabbing cliffhangers. Some notable cliffhangers included the landmark "Who shot J.R.?" episode (which TV Guide ranked #69 on its list of "TV's Top 100 Episodes of All Time"), an unidentified floating female corpse in the Southfork swimming pool, and a blazing house fire.
Great READS From Amazon.com - Kindle and Softcover
The Make Life Work For You Family of Helpful Websites